Interviewed in March of 2016 by Andrew Houle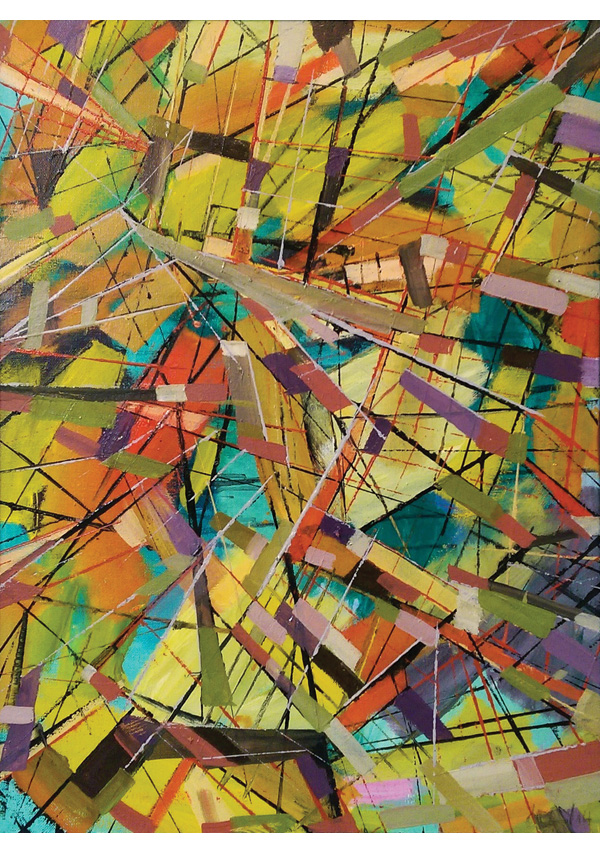 ADAM J. O'DAY
Hometown:
Murfreesboro, TN
Current town:
Medford, MA
1.) Adam, can you tell our readers a little bit about your background? Where did you grow up, and how did your surroundings affect or influence your path towards becoming an artist?
I grew up in Tennessee, Pennsylvania, Michigan, Georgia, DC, and Massachusetts. Moving around a lot helped me to see a big variety of life. My parents thought TV was ungodly. That helped me to develop my art early too.
2.) After living in a variety of different cities across the country, you've settled here in Boston where you've set some roots and really established yourself as an artist. Utilizing your surroundings, the city springs to life in your work evoking a real connection with the viewer. Every street feels recognizable and somehow familiar, yet the dial has been turned past 10 with color, perspective and energized mark making. Are you working from an image first then letting the painting take over? Allowing your own energy and emotion to be the guide?
You nailed it on the head there, boss. I start with sketching and photos. But then I do the 2nd half of the painting from memory and emotion. That way, there's definitely my style poking out.
3.) Seeing the vibrant use of color and range in your palette, I couldn't help but laugh when reading you had an obsession with black crayons as a kid. Was this just a phase? Did you get all of your monochrome work out of your system at a young age?
It was about contrast then. Don't you remember how frustrating crayons were? Most colors didn't even do very much unless you pressed down hard. It was over once I found out about magic markers. I plan on doing some monochrome works soon. But I'm definitely a color guy.
4.) Before becoming a successful full-time artist, you had a job with the Navy working on drafting and virtual programming for nearly five years. Knowing how expressive your paintings are, what was it like being surrounded by so much structure? Was it something that you enjoyed and learned from?
I loved certain aspects of it. There were some buddies of mine there to have a safety meeting with from time to time (liquid lunch). It was in Southie, which was a short bike ride away from our home. We got to work on some cool ships and hovercrafts while learning a ton about software and design. But overall working for the DoD is a soul crushing experience.
5.) Making the switch to a full-time artist is no small decision. Like a lot of artists, it starts with balancing a day job and painting during the evenings, exhibiting in restaurants and then major galleries; when did you know making the leap was possible? Was there a specific moment or conversation that made it a reality for you?
My wife Meghan noticed I was drinking hard every Friday to cope with the job. And I was doing 2 full-time jobs: the Navy yard and the art. I got the flu in Dec 2012. It was so bad I couldn't work for 2 weeks. Meghan said you should just never go back to that job. So I quit. We went to Jamaica and got married over Christmas. When we got back I was just an artist, not a cube jockey ANYMORE!!!
6.) Winning Boston's "Portrait of a City" competition is an amazing accomplishment. Not only being one of five semifinalists, but also having the public's vote declare you the winner makes it extra special. What's it like knowing you truly represent the city and that the Mayor of Boston is giving framed prints of your art to visiting diplomats and distinguished guests of the city?
It's a proud moment when you know people voted for you to win. I felt so humbled. Everyone kept telling me that I deserved it for working so hard. It was a crazy couple of weeks with interviews and phone calls. The icing on the cake is that there are those diplomats with my signed prints as official gifts from the whole city of Boston. To represent our city is truly an honor.
7.) You were recently commissioned by the Bruins to commemorate the 20th anniversary of the TD Garden by creating a 35-by-13 foot mural of the city right inside the Garden! What was that process like working inside the Garden? With concerts or games there almost every night, were you working around people or did they just throw you keys to the building and ask you to lock up when you're done?
There was nobody there when I painted it. Security lets me in and I painted that whole weekend. It was finished in around 4 days. They also made prints of it, which I signed, to give to the players and the executives as a 20th Anniversary gift from the Garden. I also learned the Bruins own the Garden and that the Celtics just rent it. This experience was amazing. In Boston, sports arenas are cathedrals. So to be chosen to paint a mural there was so much fun. 10,000 people see it every day.
8.) Your studio space in Abington seems like a nice space to let loose. What's a typical day for you working in the lab? Hit the lights, crank up some music and just get to work?
Lights, music, play drums, and then paint. I only paint 2-3 days a week. I'm watching my daughter Penny the other days. It makes me hyper focused on what I'm going to work on when I get there. When the day is done, we go dwell at the Cellar Tavern, where $2 pizzas can be scarfed and $1.50 PBRs can be gulped.
9.) Hieronymous Bosch is one trippy Dutch painter that has resonated in some of your recent work. You get the chance to really go off the rails allowing anything to emerge from your imagination; blurring architecture, figures, and any representational shapes into your own narrative. Is it a nice break from the landscape format for you to dive into surrealism and fantasy based pieces?
You bet your sweet ass it is a nice break. A beautiful street scene is great and all, but I want more of a story sometimes. Landscapes are a great way to document things I've seen or places I've been. But something 100% from my imagination is magical. It's another dimension. It's a place my mind would rather be for a little while.
10.) We've been following you on Instagram for a while now where there's not only a constant flow of fresh paintings but also a pretty strong and hilarious hashtag game. Anything from #mrrogers, #charliesheen, #hotsauce and our personal favorite #faygo. With the stress and pressures that can always be present as a full-time artist, is it important for you to always keep a healthy sense of humor? (Readers can follow along @adam_oday.)
My sense of humor is bad and I should feel bad. It always strikes me as crazy, that we do these online things to let people know what we are doing. But whenever I reunite with someone, they always remind me of something I posted on Instagram, in a way that it seems like they were there with me. We are all connected by these little pictures and descriptions. So why not make it a fun time to read it? After 20 years of hashtagging, things will look pretty ridiculous I bet.
11.) Keeping on the topic of balance, what was the biggest adjustment for your art career when you welcomed your baby girl into your family? Was there a period of time when art was put on hold or is it just a matter of shifting some responsibilities? And maybe even a renewed sense of focus?
Penny's 1st year was so beautiful. She's our everything. I only worked on a show in P'town and a show at the Hynes Convention Center in Boston. Which for me is a light load, considering I did about 10 shows a year for 7 years straight. I feel so much more focused now. It was almost like working less on art made the art better for me. It also seemed like I was getting more opportunities, i.e. Verb Hotel Mural, Brightcove Mural and Garden Mural. But as you will soon find out, you learn to cherish your drawing and painting time. Because time with the baby and time with your art both enrich each other like you have never experienced before. It's a great surprise to me and I love it.
12.) What's up next for you? Any upcoming exhibitions, collaborations or projects where our readers can see your work?
-Spring Works 3, Solo show at Christopher's Porter Sq. Cambridge, April 16th, meet and greet 7-10 pm
-Artweek Boston solo show at Cambridge Innovation Center, Milk St Boston
1st week of May - July
-Future Traditional, Solo show at Woodman/Shimko Gallery – Provincetown
August – date TBD (probably Aug 12)
13. Alright last question, give our readers an artist they need to be following right now. Who you got? Artist, band, writer, anything goes; who is out there grinding away that deserves some extra love?
I could name about 30 artists and 20 bands who deserve love. But I think much more love needs to be given to female visual artists. Zoë Friend, Jodie Baehre, Julia Purinton, Sarah Kinne, Jillian Freyer, Caitlin Duennebier, just to name a few. I admire them as artists. Some I know well, and others are acquaintances. But it doesn't matter as long as you go peep their work.**