Interviewed in March of 2016 by Michael Crockett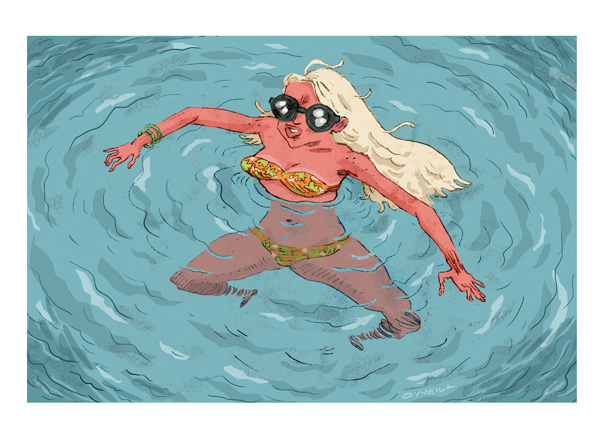 CHRIS E. O'NEILL
Hometown:
Rolling Hills of Vermont
Current town:
Somerville, MA
1.) We love your style and we are curious, does living in New England influence your work in any way? Also, tell us a little about where you grew up and if you studied art around New England.
Thanks for having me. New England has and always will be essential to who I am. I was forged in the rolling hills of Vermont and spent my childhood in various towns around the state, and went to Maine College of Art for a year before I moved to MA to go to the Art Institute of Boston. I've been living in the greater Boston area ever since.
When I think "New England" there's a type of person that immediately comes to mind: sturdy, rugged, stoic, internal, and resourceful. I'm always drawn to people like that. My grandfather was the essential Vermonter. A carpenter, strong, always working outside. Quiet but good natured. I guess that's what I find inspiring, and the characters in my work hopefully display some of those traits.
2.) You have a very specific brush style that you have made your own. Can you tell us a bit about what drew you to the brush pen, or in general, what tools do you prefer to use in your work?
Early on in college, I had a heavy hand and my work was much "sketchier." I idolized the clean, confident brushwork of 90's comic artists and set out to emulate aspects of that. I tried only drawing in pen to reduce the number of lines and bought a nice brush. I filled pages with swirls and tests trying to figure out how to vary line weight, how to get dry-brush looks etc. I had read online that the Pentel brush pen was working for a lot of guys that I admired, so I quickly ordered one. It's the perfect pen for sketching on the go and is springy enough to give you a wide range in line quality. In addition, I've been using microns sporadically, trying to decode the work of guys like Moebius or Mike Mignola whose work has a uniform line quality.
3.) "Comic art" is a term we have heard many times around CHROMA. Do you feel your work fits that label or do you see yourself in another light? I personally see your work bridging the gap between illustration and fine art, would you agree?
Yes, and no. I grew up on comics. I've got folders with drawings copied from issues of Wolverine. I learned a lot from those as a kid. I got really into R. Crumb in college, along with 50s-60s advertising art. Simple, flat, angular characters. I've always had a deep respect for N.C. Wyeth, Art Rackham, Howard Pyle, and Norman Rockwell. The classic generation of illustration. I keep coming back to Frank Frazetta, Jeff Jones, Moebius, Jack Kirby, and Mike Mignola. I've been into Barry McGee, and Margaret Kilgallen for a while.
I think having a wide range of influences is really important, and as much as I love comics, I also love the static, single image illustration.
4.) Tell us about projects you have worked on and favorite clients you've worked for. Where would others be able to find your work or collect it?
I got my break working for the Weekly Dig. I did a couple of covers for them, and a big interior piece about cycling in the city. A friend of mine was the art director there for a while, and let me do my thing.
I've been a colorist in the comics industry for a couple years now. I worked on a bunch of issues of the Adventure Time comic. I worked on Raina Telgemeier's book Sisters, and Midas Flesh.
I've been in both of the Boston Artcrank poster shows, which feature cycling inspired screenprints.
Most recently, I released a screenprint with Trifecta Editions for Rally Sports for their annual Pond Hockey Classic tournament and I'm in a two-person show at the Thomas Young Gallery in March.
5.) You are an avid bike rider in Boston. Does this lifestyle influence your art ever? In what ways has using your bike as transportation in the city affected your art career?
Riding a bike in the city is great. It offers you freedom of movement, opens up new neighborhoods to you, allows you to look around you and really see your surroundings. You can stop whenever you want. I bring my sketchbook with me everywhere. Cycling also helps me burn excess energy and clears my head, which allows me to shut myself inside and concentrate when it's time to get work done.
6.) How much of your work would you say is directly life drawing and how much is pure imagination? Do you have a favorite you work from?
I think it's something like 50/50. When you draw from observation constantly it informs and enriches the work that you do from imagination. In my opinion, the two are linked and dependent upon each other. When you draw from life people aren't posing for you. There's a certain amount of decision making and invention that you have to employ to make a decent drawing. It's not so much about accuracy as much as believability. No one looking at the drawing later knows what you were observing. When drawing from imagination, those little things like creases folds in clothing, weight, volume etc. that you pick up from life drawing help to 'sell' the drawing as believable.
7.) Could you talk a little about your subject matter? Especially all of your amazing characters. Would you tell our readers who Sarah is and why she shows up in your work so often?
It sounds silly, but I'm just trying to draw what I want to look at. I'm very much into strong, sexy, independent, confident women, and try to put that across in my work. I'm not just going for pinup or cheesecake. My male characters tend to be outward depictions of my internal neurosis, or something I aspire to. I'm kind of stuck in the 70's when sci-fi and fantasy were big, and weirdness and psychedelic were mainstream.
Sarah is my wife, and muse. We've been together for 15 years and married for 2 of them. I started drawing her early on in our relationship and just haven't stopped. We spend a lot of time together, drawing, so she's always right there when I've got the sketchbook open. It's a working relationship too, where we talk about art making, and offer each other criticism when something isn't working. She's also pretty easy on the eyes, so it's sort of a no-brainer. I put out a book collecting 10+ years of my drawings of her, totaling 110 pages. It's called Sarah Smile.
8.) You have worked within a collective in the past, please share that experience with our readers who might be interested in learning more about being involved in a collective group setting.
Being in a collective was a way to meet like-minded creative types, and be able to show work right out of school. Strength in numbers. It's way easier to propose a show of 5 or 6 people with different work, but who know each other and are organized. We would meet a couple times a month, plan shows, offer critiques, and just hang out. We've all grown as people and artists and gotten some measure of success since we started out.
9.) We are always curious about our artist's studio life. On a scale of Mr. Clean to Atomic explosion, how messy does your studio get?
I'm pretty organized. I dislike clutter, and get overwhelmed if things start to head toward 'atomic explosion'. Piles are unavoidable. I've got a huge Wald basket filled with drawings. I've got tools all over the place. My work stays in the 16 x 20" range, and I usually work in ink, plus dry media. Sometimes I get out the paints. I'm a picture framer too, so there's some of that stuff lying around. Let's call it organized chaos. I know where everything is... most of the time.
10.) Does music play a role in your process? If so, share with us how you use it or if you have any rituals you have to have while you work.
I never used to think so, but there are certain songs and artists that I keep going back to. Sometimes lyrics make their way into my sketchbook, or a tune becomes the basis for a certain vibe that I'm going for. I'm drawing a comic, and the seed for the idea came from Neil Young's 'Cowgirl in the Sand.' Patsy Cline's 'I Fall to Pieces' makes my head buzz. I'm really into Led Zeppelin, Black Sabbath, and 70's Prog rock. I often put on Miles Davis or Electronic music as background to help me focus. Radiohead on heavy repeat always.
11.) We met you in the city of Somerville, where many artists call home. Would you describe the city and drop some knowledge on your favorite places to work, hang out or just have a beer!
Somerville is great. It feels close to everything and far enough away at the same time. I hardly ever leave this side of the river anymore, if I can help it. It's more neighborhood-y and relaxed than Boston or Cambridge, and there's a great mix of eccentric people making interesting things, or just looking good and making me want to draw. There's a great craft beer scene and good food to be had. I'm always at Diesel Cafe or Forge for coffee and drawing. I like the Independent, Highland Kitchen, and Flatbread for beers, food, and... more drawing.
12.) What is your absolute dream client? What project would you love to work on that you haven't yet?
I'm pretty easy to work with. Maybe just someone who shares my interests so that I can draw the things I'd be doing anyway. I've always wanted my work on beer labels. That would be rad. Some friends have done murals in bars or restaurants, I'd love for that to happen. I'd like to do merchandise for brands and companies hose products or services I feel strongly about. It would be cool to design a cycling kit.
13.) Bonus question: let the world know what undiscovered artists are out there and ready to blow up! Who do you like to look at that we might want to check out?
I'm all about illustrators. I know I'm partial, but my wife Sarah makes awesome work and deserves to be famous. I'd like to see my friends who are working hard, grinding away, finally get their due. Rising tide raises all ships. James Weinberg, Caitlin Duennebier, and Jon Diotalevi. Massart & LUCAD illustration students have been killing it lately. Look out for Victoria Maxfield, Dom Civiello, Tiffany Mallery, and Nick Nazzaro.